In-Tune, the Piano World Newsletter
January 2021 Issue

Check the In-Tune Newsletter Archives to see what you've been missing and catch up on what's been happening!

Brought to you by Piano World The world's most popular piano site, home of the World Famous Piano Forums!
(Frank Baxter, editor – founder – owner)
---
A NOTE About Links in our Newsletter:
The email service we use to send our newsletter (called Active Campaign) creates custom links in order to track data from our emails.
PLEASE – be sure you have picture viewing turned on for our newsletter
---
If You Like the Piano


You should be reading our newsletter (oh wait, you are, thank you), join our world famous Piano Forums, host and/or attend a piano party, share your love of piano with others, keep your piano(s) tuned and maintained, support others who want to learn, tell hotels and restaurants you'd like to see/hear live piano players, … I'm betting some of you can easily add to the list above, feel free to send me your suggestions. frank@pianoworld.com
---
100,000!


On January 11, 2021 we welcomed our 100,000th member!

If you are wondering, members who have chosen to close their accounts and members who have been banned are not counted in this total.
I'm very proud that the Piano World Piano Forums family now has over 100,000 registered piano loving members from around the world!
There is a Thread about the 100,000+ members here
If you are reading this newsletter you are most likely a member, although we do have some people who subscribe to the newsletter but haven't joined the forums.
Please help us spread the word, invite others that you know like the piano to join our Piano Forums.
---
A Tough Year for Sure
Like many small businesses 2020 was a tough year for me (and 2021 is starting out just as bad).

For those of you who don't know, I am Frank Baxter and I started Piano World (and the forums) around 1997.

About ten years ago, after getting laid off from my web development/marketing job at McGraw-Hill (publishing company) I decided to try working for myself. Between selling advertising on Piano World, sales in my online store (PianoSupplies.com) tuning pianos, and the occasional gig I managed to survive.

Things started going downhill fast in 2019 when I went through some personal issues during which I took my eye off the ball.

But toward the end of 2019 I realized I needed to pull myself together and take positive steps. So I purchased a 9 bedroom house (built in 1850) in the historic district of Cornish Maine. I knew it needed a lot of work, but my plan was to open a small BNB upstairs, and a music shop downstairs.
And if things could work out, a live music venue in the barn (but that would take a lot of money).

Then the global pandemic hit and sales in my online store plummeted (a lot of my business was churches and schools), tunings dried up, gigs disappeared, and the tourist traffic I was counting on to help the music shop (and eventually BNB) never came.

While keeping Piano World and the forums going is a labor of love, it's also expensive. Hosting fees alone are over $6500 a year.

I realize many of our members have also been going through some tough times, I hope things get better for you soon.
If you are in a position to help keep Piano World and the Piano Forums alive and well there are a number of options, including purchasing from our online store www.PianoSupplies.com, Advertising on our site, Donating or Becoming a subscribing member

If you can't help via any of the above, please at least pay some attention to our advertisers (and turn off ad blocker while you on our site) so they will know they are reaching their audience. And by all means, invite others to join our piano forums.

---
NEW! Sell Your Piano on the World Famous Piano World Piano Forums!
We have replaced our old Pianos for Sale area with a new forum on our world famous piano forums. Overview and Instructions

That's right, whether you are a private individual or a piano dealer you can now advertise your piano(s) for sale right on our famous Piano Forums. The current cost (subject to change) is only $19.95 per piano for 30 days.
---
Maple Street Music Shop is Open!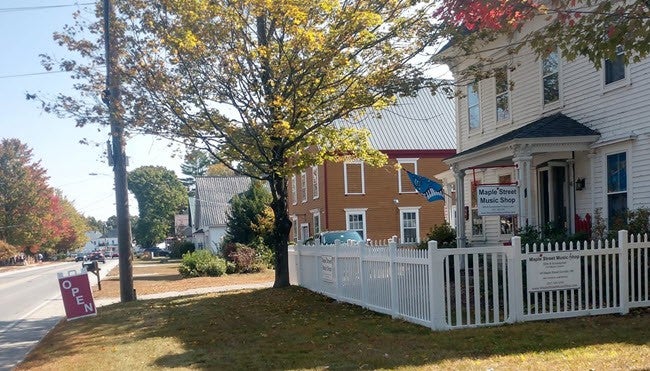 As many of you know, I purchased a big old house in Cornish Maine thinking I'd open a little music shop in the house, and do some Air BNB.
The store is now open, MapleStreetMusicShop.com
48 Maple Street
Cornish, Maine 04020

If you find ourself in this area (Southwest Maine) please come by for a visit.
The BNB part is going to have to wait a bit longer. I'm hoping by summer the vaccines will be widely available (and that people get the vaccine).
My girlfriend is a respiratory therapist at a major hospital in Maine, this virus is no joke.
---
Speaking of Piano Tuners…
I am a professional piano tuner and I rely on tuning pianos for part of my living.
Since the pandemic ramped up my tuning business has dropped off significantly.
Things are just starting to pick up for me (very slowly) but I'm keeping an eye on the virus.

So if you are in the Southwest Maine or Mid-East area of New Hampshire I'd be happy to tune your piano. And yes, I take Covid precautions and would ask that you do the same.
You can find My Ad Here

---

If you have any interest in learning more about Piano World and/or your host, please visit our About Us page.

---
In Our Store
Antibacterial Hand Sanitizers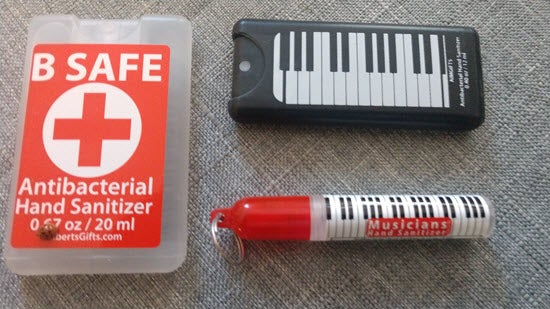 ---
Stylus – Pen – Light (all in one)
Use the stylus instead of your fingers on touch screens (think, pumping gas or the checkout at the supermarket).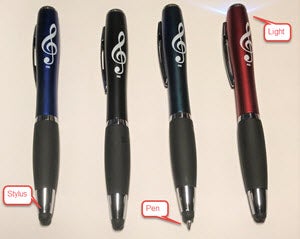 Face Masks for Music Lovers!
---
Piano Competitions, Concerts & More
---
I'm afraid with the Coronavirus still raging around the world, in person concerts and events have pretty much been either canceled or postponed.
Others are trying to regroup by using Facetime, Zoom, or even Skype.
If you know of any concerts or competitions being held virtually, please post about them on our Piano Forums so we can share them.

I know that my friend , concert pianist Jeffrey Biegel is working with composer

Remember, if you know of any piano concerts, competitions, or events … let us know!
You can post in this section of the piano forums (and/or email us). Don't forget to keep an eye on the forum below for news of upcoming concerts, competitions, and special (piano) events. Piano Concerts – Competitions – Events
---
Piano Tuning – A Few Of My Assistants


I often take pictures of the animals at the homes when I tune (I always ask permission first).
Some day I'll post an entire story with tons of pictures. These pictures are from a couple of recent tunings.

Another cat tuning helper



Dog Tuning Helper (very friendly)

---
My Estonia L-190 Sounds Like what?


I love my Estonia grand piano but just to make it a bit more interesting I installed a PianoDisc ProRecord system which gives my piano the ability to transform into a MIDI controller.
What does that mean you ask?
Among other things I can assign different instrument sounds to my piano. I've included a couple of examples below. If you'd like to know more contact me, or if you are in my area (southwest Maine) stop by and I'll be happy to demonstrate live (and let you try it).
Estonia piano with piano and choir
Estonia L-190 sounds like a choir
Estonia L-190 sounds like Hammond B3
And for Comparison, one that is straight piano (original composition)
I also added a couple of Christmas pieces to my YouTube channel.
---
About Our Forums


The Piano Forums on Piano World are not just one forum, there are in fact several, each with a specific targeted audience in mind.

The following is a brief description of some of our most popular forums.
Piano Forum = The forum just titled Piano Forum is geared toward discussions of the instruments themselves. It is where you would go to find information about specific brands, or pianos in general. Many piano manufacturers monitor this forum even if they choose not to participate. It helps them to learn what the public is saying about their products, and their competitors products.
Piano Tuner-Technicians Forum = As the name implies, this forum is primarily for professional piano tuner-technicians, however anyone can read what is being discussed. You can also post specific technical questions here, but please be polite and realize the pros that take the time to respond are giving freely of their valuable time.
Digital Piano – Synths & Keyboards = This rapidly growing forum is geared toward the digital side of the piano/keyboard business. It includes digital pianos, electric pianos, electronic pianos, hybrids, and synthesizers & controllers. Discussions here can get pretty technical, but they can also be as simple as "which keyboard has the touch response you like the most?"

You will also find discussions about things like midi interfaces, sound modules, speakers, microphones, sequencers, etc.
Adult Beginners Forum = This is a bit of a misnomer as not all the participants are beginners (nor are they all necessarily adults). The idea behind it's creation was to give adults a place to feel comfortable talking about learning to play piano later in life. Many of the participants played some when they were younger, got away from playing, and are now coming back to the joy of making music. Of course there are also lots of "adults" who are in fact just beginning their journey.

I've found over the years this is one of the more civil and helpful forums where the members truly try to help each other. They even organize online recitals and friendly competitions.
Pianist Corner = Primarily aimed at the more advanced pianist, many of the participants here are at an intermediate to advanced level. No need to be intimidated though, if you aspire to become a better pianist you can learn a lot from these folks.
Pianist Corner – Non Classical = This is a forum for the rest of us. Take me for instance, I play rock, standards, blues, a little jazz and a little ragtime. If you're interested, you can see/hear me "in action" here On YouTube It was a few years and over 60lbs ago (thank you to our friend Sam Bennett of Piano Works in Deluth GA for recording and posting this from a previous NAMM show).
If you love to play piano, but classical isn't your thing, this is the forum for you.
Piano Teachers Forum = Yes, it's what you think it would be. Primarily for piano teachers to discuss their trade, lesson plans, scheduling, etc. If you are not a piano teacher but have a question you'd like to ask someone who is, please be polite and be patient.
If you are new to teaching piano, you may find a lot of good information here, and helpful people.
Other Forums = There are a number of other forums on Piano World, please take some time to explore them, you may just find something you really enjoy, and learn something along the way.
Some of our other forums include = Events-Recitals-Competitions, Composer's Lounge, Parties-Tours-Cruises, Photo Gallery, Who's Who, Member Recordings, Just for the Fun of it, and still more.
Speaking of the forums, if you receive a PM (Private Message) from someone and you want to reply to them You must click the link provided in the PM email! DO NOT just hit the reply button in your email program because doing so just sends your reply to me (because piano world is the "sender" of the pm email.

Visit the Piano Forums Today!
---
Active Topics – Have You Checked?


Did you know you can easily view a list of the current active topics in the forums?
You can view active topics from the last 24 hours, the last 48 hours, or the last 7 days.

Here is an example of the current active topics from the last seven days Piano Forums Active Topics

You can find the Active Topics link at the top of the page, or just use the link I provided above. When you get there, you can always change the time frame to one of the other choices.

---



Piano Parties!

We love piano parties! If you are planning to hold one, please let us know. Piano parties are a great way to share your love of playing (and listening) and an opportunity to get non-players or those who haven't played in years interested. If you find yourself in the area of southwest Maine let me know, we love to host piano parties whether it's for two people or forty two.

NOTE: Currently we are dealing with a major pandemic that has curtailed in person piano parties.
Hopefully it won't be too long before we can resume. In the meantime we can host virtual piano parties. Please stay safe and take care.


Our friends in Europe have hosted piano parties every year since 2013…
2013 it was Brussels, Belgium
2014 it was Lisbon, Portugal
2015 it was Lucerne, Switzerland
2016 was in Milan, Italy (Kathy my former partner and I went to this one, amazing)
2017 had not one but two European parties, one was in Bulgaria, the other in Spain.
Here are some Reports & Pictures from the one in Spain.
2018 was In Germany
I know there were a few parties posted for 2019.

There was talk of a piano party in Bulgaria in 2020 Bulgaria Piano Party Thread

And yes, I plan to host some at my new (to me) house in Cornish Maine (as soon as things return to normal), I'm pretty sure one of our members in Old Orchard Beach (Maine) will be hosting at least one.
We've also hosted a tour of European Piano Makers (2011), a Piano Cruise , a Piano Crawl (NY), and several tours of the Mason & Hamlin factory in Haverhill MA and the Steinway factory in NY.

Not sure what a piano party is?
Check out the links above, and this forum Forum Members Parties, Tours, Cruises, & Meetings
Also, see this Collection of Piano Parties and Tours compiled by one of our moderators (thank you Casinitaly).
---
Piano Owners Forum!





PLEASE – Visit this forum and congratulate these folks on their New Piano!


We now have a special sub-forum under the Piano Forum specifically as a place for posts about members getting a new (to them) piano.

I love reading the threads posted by members who have finally purchased their piano. Seeing the pictures and hearing the stories reminds me of one of the most important reasons we are here, to help each other.

And if you've found Piano World and/or the Forums to be helpful, we'd love to know that too.
Unfortunately these posts get buried quickly as new threads get created.

If you recently got a piano, or you know of a thread where someone is talking about getting their new piano, please let me know. I'd love to move the threads to this one central place for all to share in the joy of owning and playing a piano.

The New Piano Owners forum lives here , right under the primary Piano Forum.
---
(ad) Ken Knapp Organ Repair


Organ Repair
Vintage Hammond and Leslie Specialist
Repair or Rebuild – To Sound your Best
Sales – Service
Pleasant Mount, Pa. 18453
570-960-1018 / 570-679-2715
www.tonewheeltech.com
---
In Our Online Store!
Have you visited our online store for music lovers?
PianoSupplies.com is a division of Piano World.
Sales in our online store help support Piano World.




We sell benches,lamps, cushions, music related party goods, tuning equipment, piano moving equipment and so much more.
And we offer free shipping on Jansen Artist Benches* and CocoWeb Piano Lamps* (*contiguous U.S.) PianoSupplies.com is Piano World's Online Store


Please Browse our Store Today



---
I'll Show You Mine if You Show Me Yours
(Show Us Your Piano Room Pictures)
This thread has been running for over ten years now!
Every once in a while someone discovers it and adds pictures of their own Piano/Music room.
If you haven't posted yours yet, please feel free to add them. We don't care if you only have a keyboard sitting on a table or two concert grands in an elaborate music room, we just love seeing people's set up and knowing they are enjoying making music.

If you would like to add your pictures to this thread PLEASE be sure to upload your pictures to our servers (see Posting Pictures on the Piano Forums below). Otherwise they may just disappear some day, as you will see in some of the posts in this thread.
the Show Us Your Piano Room Pictures Thread

This is a picture of my new Music Room in the house I recently purchased in Cornish Maine.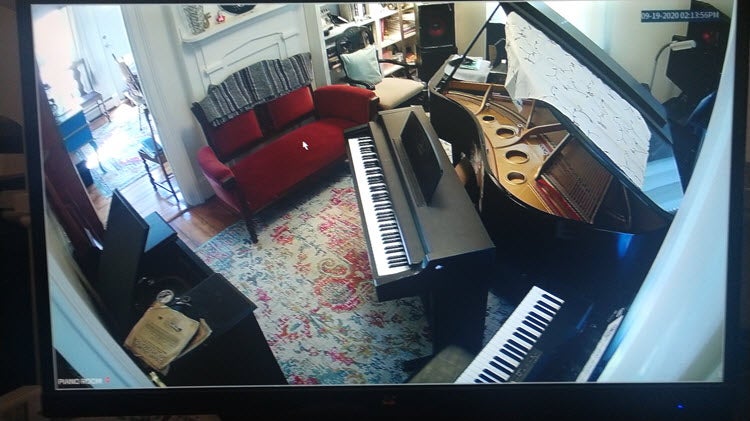 ---
Have you visited the member recordings forums?
This is a great place to hear some of your fellow forums members. One is a sub forum in the Pianist Corner which features primarily classical music. Member Recordings – Pianist Corner

The other is under the Fun Stuff category and contains hundreds of recordings of all types of wonderful music. Member Recordings – General

---
Find a Piano Professional
*Piano Dealers – Piano Stores

*Piano Tuners

*Piano Movers

*Piano Teachers

*Piano Restorations

*Piano Manufacturers


Please Support Our Advertisers
---

Please Share Our Newsletter with Others, & Invite People to Join Our Forums

If you've actually read this far, Thank You!
And if you have suggestions for future issues of our newsletter, please feel free to share them with me.
In closing I'd like to thank each and everyone of you for being a friend of the Piano World and for visiting my web site(s). I hope all of you come through this craziness ok and that things get back to normal soon. (the girl I'm dating is a respiratory therapist at a major hospital, I worry about her and her co-workers every day).

Keep playing the piano, and sharing your music. We could all use a little music in our lives about now.



Remember:
It's Fun to Play The Piano … Please Pass It On!



Warm Regards,

Frank Baxter
(Founder / Host)

Piano World & the Piano Forums, PianoSupplies.com
48 Maple Street
Cornish, Maine 04020
100,000+ Forums Members, Over 3 Million Posts, and always growing!
frank@pianoworld.com
Piano World On:
Facebook … Facebook.com/PianoWorldDotCom
Online Store for Music Lovers … www.PianoSupplies.com
LinkedIn … www.linkedin.com/in/ecommerceseo
YouTube … www.youtube.com/user/PianoWorldDotCom



ADVERTISE ON PIANO WORLD!
---
Piano World ® / © 1997-2021 – All Rights Reserved