Piano World ®
Frank Baxter – Founder and Host of Piano World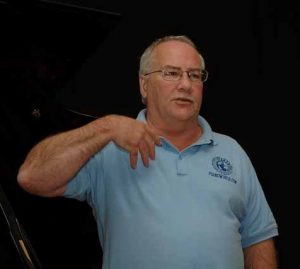 Frank Baxter – Founder & Host
Frank Baxter, the host/Webmaster/owner of Piano World and PianoSupplies.com has been tuning and repairing pianos since 1975.
He played in Rock & Roll bands in the 60's and 70's and continues to play piano and keyboard for audiences large and small, wherever/whenever the opportunity presents itself.
A native of Nahant, MA, (now living in Parsonsfield Maine) Frank started in the piano business in 1968 working for an old family music store in Lynn, MA called Curtis Music Store. Originally hired to deliver pianos after school and on Saturdays, he was soon hired to work in the store too.
Curtis Music began in 1890 and specialized in exceptional customer service.
Apprenticing under Raymond Curtis, a master technician who once built pianos in the Chickering factory, Frank gained invaluable experience in how a craftsman approaches his art.
When Raymond retired, Frank continued his education with Raymond's son-in-law, George Cole, a registered PTG tuner, a Mentor and a friend (now also retired).
From there, he went on to start his own piano tuning business, opened his own full line music store (in Newport, RI), played in bands and created All About Pianos! which became (around 1999) Piano World and later added PianoSupplies.com (an online store for piano accessories, tuning equipment, piano moving equipment, music theme party goods and much more).
Piano World began as All About Pianos! in January of 1996.
Frank began receiving more and more email every day asking for help and making suggestions.
This lead him to post more information which brought more people to the site.
He still does some of the programming, content, and most of answering the emails, etc.
And so Piano World continues to grow, adding new content, revising the design and , as always, answering questions for our valued visitors. How big is Piano World now? Google has indexed over 4 million pages related Piano World.
In fact, Piano World received over 6,000,000 unique piano and music loving visitors in 2012 alone!
The World Famous Piano Forums have become the most popular section of Piano World. Piano and music-related posts now number over 2-1/2 Million and continue to grow every day. These forums have developed into a wonderful community of 85,000+ people who share a love for the piano.
Frank Baxter, Kathleen (Kathy) Ford, Barbara Baxter-Wadsworth, Larry Wadsworth, Indrek Laul, Venno Laul. In Tallinn Estonia at the Laul Estonia Piano Factory with my new piano.
The goal of Piano World is to help people locate information about their piano, buy or sell a piano or just have some fun talking about and learning about pianos and sharing the joys of playing and listening to pianos.
He started taking Flying Lessons before running out of money.
Frank recently moved to Parsonsfield Maine with his partner, Kathy Ford. They are looking forward to hosting piano parties .
Frank Baxter … Founder / Host / Webmaster