Our April 2018 Newsletter
In-Tune, the Piano World Newsletter
April 2018 Issue
European Tour & More
Check the In-Tune Newsletter Archives to see what you've been missing and catch up on what's been happening!

Brought to you by Piano World The world's most popular piano site, home of the World Famous Piano Forums!
(Frank Baxter, editor - founder - owner)
(Kathy Ford, Office Manager & Customer Service)
---
A NOTE About Links in our Newsletter:
The email service we use to send our newsletter (called Active Campaign) creates custom links in order to track data from our emails.
PLEASE - be sure you have picture viewing turned on for our newsletter
---
90,000+ Members!

As of 16 April 2018 we surpassed the 90,000* registered member mark on our world famous Piano Forums!
I'm very excited that we continue to attract new members from around the world. Welcome to all our new/recent members. Please remember to invite your friends to join.
More about our forums later in this newsletter.
(* For those who might be wondering, the 90,000 does not include anyone who has chosen to close their account or has been banned).
---
Join Our Tour of European Piano Makers!
A number of people have expressed an interest in another tour of European Piano Shops similar to the one we did back in 2011. You asked, we listened. Right now we're in the "how many people really want to go?" phase.
Please visit This Post for More Information
Then, if you think you might genuinely be interested please let me know.
You can reply within the thread, but it would be a good idea to send me an email with Piano Tour in the subject line.
That way I can easily see how many people are interested (be sure to let me know how many people in your party) and I'll have your email to keep in touch with updates. frank@pianoworld.com

The 2011 tour was 12 days, starting in Hamburg Germany, ending in Vienna, Austria. We will do it a bit differently this time. For one thing, I'd love to include Italy in the trip (Fazioli anyone?), and I would very much like to go back to the amazing museum in Vienna that was full of planes, trains, and automobiles, plus musical instruments including very rare pianos, and even rooms full of gold objects.

Please let me know if you are interested in the summer of 2019 piano tour. And feel free to let me know if you have any preferences of which places to visit.

---



Piano Competitions, Concerts & More


How to play on Broadway and Tours- Teleseminar
by Geraldine Anello
Actions and Detail Panel
Mon, April 23, 2018, 2:00 PM – 4:00 PM
HOW TO PLAY ON BROADWAY AND TOURS

Speaker: Howard Joines (Broadway Contractor: Finding Neverland, Side Show, Aladdin, Matilda, Bullets over Broadway, Cinderella, Billy Elliott, Promises Promises, Grease, etc. Broadway Conductor: Dirty Rotten Scoundrels, Never Gonna Dance, Jesus Christ Superstar, The Full Monty, etc. Drums/Percussions: Ghost, Miss Saigon, Les Miserables, Flower Drum Song, etc.) More Details Here
---
VIII Piano Bridges International Competition for Amateur Pianists

will be held in St. Petersburg, Russia, from July 1-7, 2018.
We welcome amateur pianists aged 17 and above from all countries, people of various occupations for whom piano playing is a serious hobby, but not a professional activity.
Read More...
---
High Point University
2018 4th Annual Piano Competition

Funded by the Randall Thomas Johnson Trust.
$10,000 in prizes (among 3 finalists)
Read More Details Here
---
Waring International Piano Competition 2019
Over $30,000 in prize money plus performance opportunities
Junior & Intermediate 2019
Competitions > Junior & Intermediate 2019
Competition dates are
March 24 - April 1, 2019.

You can Download a PDF of the 2019 Rules and Regulations
Competition Divisions

The Waring sponsors three competition divisions:
Junior (pianists through age 12)
Intermediate (pianists ages 13 through 17)
Senior (pianists ages 18 through 30)

Additional Details Here
---
33rd Spring Season - Historical Piano Concerts
The Frederick Piano Collection in Ashburnham, MA
Our friends at the Frederick Historic Piano Collection have announced their concert lineup for 2018. It looks like it will be one of their best!
Kathy and I will try to attend some, I hope you can make it too. May 13 and May 27 look particularly interesting to us.
READ More Details Here
---


Additional Piano Concerts and Competition Listings

Remember, if you know of any piano concerts, competitions, or events ... let us know!
You can post in this section of the piano forums (and/or email us). Don't forget to keep an eye on the forum below for news of upcoming concerts, competitions, and special (piano) events. Piano Concerts - Competitions - Events
---
Cool New Stuff in Our Online Store

PianoSupplies.com is our online store for music lovers, it is a division of Piano World.
We sell hundreds of music related items and are constantly adding new ones.
This Hand Crafted Key Holder is just one example. Our resident crafty woman Kathy (my partner)
hand makes each and every one of these at our Piano World headquarters in Parsonsfield Maine (where she also makes the hand-made upright piano bird houses).



Please take a minute now to Check Out What's New in Our Store

We Need Piano Keys!
If you have or know of any pianos that are going to be junked, we are looking for piano keys. Preferably the entire key. We are using them to make hand-crafted items. Contact me at frank@pianoworld.com

---
About Our Forums


The Piano Forums on Piano World are not just one forum, there are in fact several, each with a specific target.
The following is a brief description of our most popular forums.
Piano Forum = The forum just titled Piano Forum is geared toward discussions of the instruments themselves. It is where you would go to find information about specific brands, or pianos in general. Many piano manufacturers monitor this forum even if they choose not to participate. It helps them to learn what the public is saying about their products, and their competitors products.
Piano Tuner-Technicians Forum = As the name implies, this forum is primarily for professional piano tuner-technicians, however anyone can read what is being discussed. You can also post specific technical questions here, but please be polite and realize the pros that take the time to respond are giving freely of their valuable time.
Digital Piano - Synths & Keyboards = This rapidly growing forum is geared toward the digital side of the piano/keyboard business. It includes digital pianos, electric pianos, electronic pianos, hybrids, and synthesizers & controllers. Discussions here can get pretty technical, but they can also be as simple as "which keyboard has the touch response you like the most?"

You will also find discussions about things like midi interfaces, sound modules, speakers, microphones, sequencers, etc.
Adult Beginners Forum = This is a bit of a misnomer as not all the participants are beginners (nor are they all necessarily adults). The idea behind it's creation was to give adults a place to feel comfortable talking about learning to play piano later in life. Many of the participants played some when they were younger, got away from playing, and are now coming back to the joy of making music. Of course there are also lots of "adults" who are in fact just beginning their journey.

I've found over the years this is one of the more civil and helpful forums where the members truly try to help each other. They even organize online recitals and friendly competitions.
Pianist Corner = Primarily aimed at the more advanced pianist, many of the participants here are at an intermediate to advanced level. No need to be intimidated though, if you aspire to become a better pianist you can learn a lot from these folks.
Pianist Corner - Non Classical = This is a forum for the rest of us. Take me for instance, I play rock, standards, blues, a little jazz and a little ragtime. If you're interested, you can see/hear me "in action" here On YouTube (thank you to our friend Sam Bennett of Piano Works in Deluth GA for recording and posting this from a previous NAMM show).
If you love to play piano, but classical isn't your thing, this is the forum for you.
Piano Teachers Forum = Yes, it's what you think it would be. Primarily for piano teachers to discuss their trade, lesson plans, scheduling, etc. If you are not a piano teacher but have a question you'd like to ask someone who is, please be polite and be patient.
If you are new to teaching piano, you may find a lot of good information here, and helpful people.
Other Forums = There are a number of other forums on Piano World, please take some time to explore them, you may just find something you really enjoy, and learn something along the way.
Some of our other forums include = Events-Recitals-Competitions, Composer's Lounge, Parties-Tours-Cruises, Photo Gallery, Who's Who, Member Recordings, Just for the Fun of it, and still more.
Visit the Piano Forums Today!
---
Active Topics - Have You Checked?


Did you know you can easily view a list of the current active topics in the forums?
You can view active topics from the last 24 hours, the last 48 hours, or the last 7 days.

Here is an example of the current active topics from the last seven days Piano Forums Active Topics

You can find the Active Topics link at the top of the page, or just use the link I provided above. When you get there, you can always change the time frame to one of the other choices.

---



Piano Parties!

We love piano parties! If you are planning to hold one, please let us know. Piano parties are a great way to share your love of playing (and listening) and an opportunity to get non-players or those who haven't played in years interested. If you find yourself in the area of southwest Maine let me know, we love to host piano parties whether it's for two people or forty two.
Our friends in Europe have hosted piano parties every year since 2013...
2013 it was Brussels, Belgium
2014 it was Lisbon, Portugal
2015 it was Lucerne, Switzerland
2016 was in Milan, Italy (Kathy and I went to this one, amazing)
2017 had not one but two European parties, one was in Bulgaria, the other in Spain.
Here are some Reports & Pictures from the one in Spain.

There is talk of a piano party In Germany for 2018 And another party In Bulgaria

There is also talk of a piano party in Australia and one in Texas (U.S.). Visit This Forum For More Details

We've also hosted a tour of European Piano Makers (2011), a Piano Cruise , a Piano Crawl (NY), and several tours of the Mason & Hamlin factory in Haverhill MA and the Steinway factory in NY.

Not sure what a piano party is?
Check out the links above, and this forum Forum Members Parties, Tours, Cruises, & Meetings
Also, see this Collection of Piano Parties and Tours compiled by one of our moderators (thank you Casinitaly).
---
New Piano Owners Forum!





PLEASE - Visit this forum and congratulate these folks on their New Piano!


We now have a special sub-forum under the Piano Forum specifically as a place for posts about members getting a new (to them) piano.

I love reading the threads posted by members who have finally purchased their piano. Seeing the pictures and hearing the stories reminds me of one of the most important reasons we are here, to help each other.

And if you've found Piano World and/or the Forums to be helpful, we'd love to know that too.
Unfortunately these posts get buried quickly as new threads get created.

If you recently got a piano, or you know of a thread where someone is talking about getting their new piano, please let me know. I'd love to move the threads to this one central place for all to share in the joy of owning and playing a piano.

The New Piano Owners forum lives here , right under the primary Piano Forum.
---
(ad) Ken Knapp Organ Repair


Organ Repair
Vintage Hammond and Leslie Specialist
Repair or Rebuild - To Sound your Best
Sales - Service
Pleasant Mount, Pa. 18453
570-960-1018 / 570-679-2715
www.tonewheeltech.com
---
Fun & Interesting Stuff



A new twist on Musical Chairs... Musical Chairs
---
What's Happening on the Piano Forums?
Looking for a quick way to catch up on what's being discussed on the forums? One option is the Active Topics link. This one shows all the active topics over the past seven days.. Active Topics, Last 7 Days
You can also choose other options like past 24 or 48 hours, active posts, unanswered posts. Check it out.
The Just for the Fun of It Forum

---
In Our Online Store!
Have you visited our online store for music lovers?
PianoSupplies.com is a division of Piano World.
Sales in our online store help support Piano World.

Right now we have some Clearance Items on Sale
Including: Metronomes

and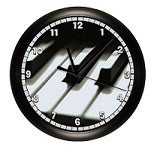 Clocks

We also sell benches,lamps, cushions, music related party goods, tuning equipment, piano moving equipment and so much more.
And we offer free shipping on Jansen Artist Benches* and CocoWeb Piano Lamps* (*contiguous U.S.) PianoSupplies.com is Piano World's Online Store


Please Browse our Store Today



---
I'll Show You Mine if You Show Me Yours
(Show Us Your Piano Room Pictures)
This thread has been running for ten years now!
Every once in a while someone discovers it and adds pictures of their own Piano/Music room.
If you haven't posted yours yet, please feel free to add them. We don't care if you only have a keyboard sitting on a table or two concert grands in an elaborate music room, we just love seeing people's set up and knowing they are enjoying making music.

If you would like to add your pictures to this thread PLEASE be sure to upload your pictures to our servers (see Posting Pictures on the Piano Forums below). Otherwise they may just disappear some day, as you will see in some of the posts in this thread.
the Show Us Your Piano Room Pictures Thread

---
Thank You - Thank You - Thank You!


We recently received our biggest ever donation from a member (JohnSprung)!
I asked him how he arrived at the amount, he said he is a 5000 Club Member so he figured each post should be worth 10¢ . Thank you for your generous support John.

And A big thank you to all the other wonderful people who have made a donation and/or become a subscribing member of our forums.
And why is this important? Please see this post Piano World Is Not Really Free!

Keeping Piano World and the Piano Forums going is a challenge. I get up every day thinking I need to find a way to generate income. I know it's my choice to be self-employed and I love it, but there are times when it can be a bit intimidating.
That's why we (Kathy and I) so appreciate it when one of our members/guests wants to show their support.


The support of our advertisers and sales in our online store (along with some piano tunings) is how I keep Piano World going and how I support my family. Being self-employed is not easy, particularly in the piano business.
Please consider purchasing from our online store, or if you are professional in the piano industry, you should be advertising on the world's most popular piano site, Piano World.

If you you'd like to show your support some other way, please visit our Support page.

Keep in mind one of the best ways you can help is to spread the word about Piano World and the Piano Forums. Tell your friends, co-workers, relatives, etc. And especially suggest to piano related businesses (teachers, tuners, movers, dealers/stores, etc.) that they should be advertising on the worlds's most popular piano site!
And if you know someone in the southwest Maine or southeast New Hampshire area, tell them you know a really good piano tuner (me). Frank Baxter - Piano Tuner-Technician
---
Have you visited the member recordings forums?
This is a great place to hear some of your fellow forums members. One is a sub forum in the Pianist Corner which features primarily classical music. Member Recordings - Pianist Corner

The other is under the Fun Stuff category and contains hundreds of recordings of all types of wonderful music. Member Recordings - General

---
Find a Piano Professional
*Piano Dealers - Piano Stores

*Piano Tuners

*Piano Movers

*Piano Teachers

*Piano Restorations

*Piano Manufacturers


---

Please Share Our Newsletter with Others, & Invite People to Join Our Forums



Remember:
It's Fun to Play The Piano ... Please Pass It On!



Warm Regards,

Frank Baxter
(Founder / Host) &
My Lovely Assistant, Kathy

Piano World & the Piano Forums, PianoSupplies.com
90,000+ Forums Members, Over 2.7 Million Posts, and always growing!
webmaster@pianoworld.com
Piano World On:
Facebook ... Facebook.com/PianoWorldDotCom
Online Store for Music Lovers ... www.PianoSupplies.com
Frank & Kathy available to perform at your home or event Frank & Kathy
LinkedIn ... www.linkedin.com/in/ecommerceseo
YouTube ... www.youtube.com/user/PianoWorldDotCom



ADVERTISE ON PIANO WORLD!
---
Piano World ® / © 1997-2018 - All Rights Reserved