My name is Frank Baxter, I own Piano World, and I've been tuning pianos since 1975.
I've had the pleasure of meeting a lot of nice people, and had more than a few adventures along the way. This blog contains some of those experiences.
Going Back in Time – Late 1970s to early 1980's – Mrs Skelly's Bois Doré Estate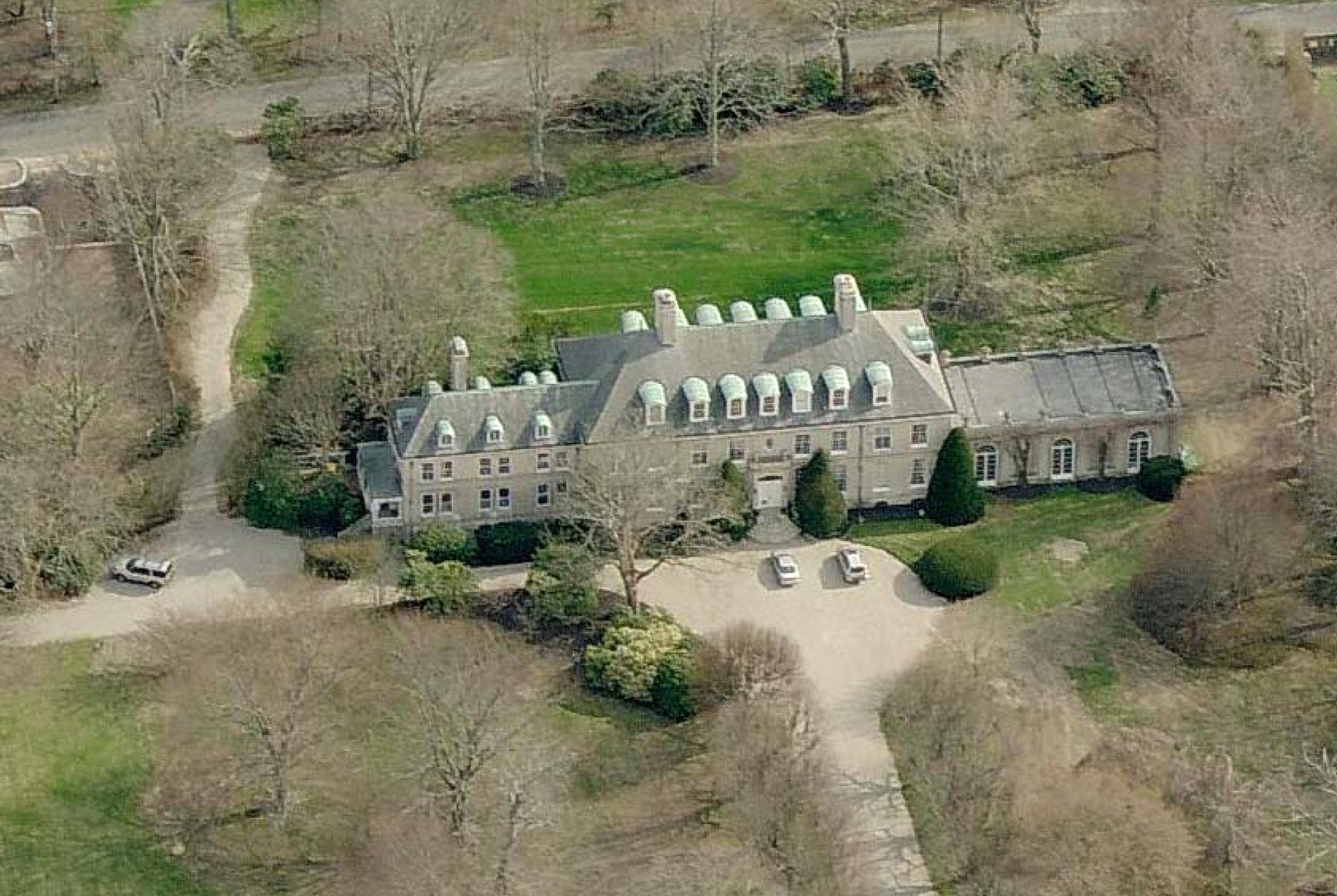 I once owned a full line music store in Middletown, R.I. (it's the town next to Newport). I picked up a lot of customers on and off the island. (Newport, Middletown, and Portsmouth are all on Aquidneck island).
One of the most interesting customers was Mrs. Skelly. That's her estate in the picture above.
She would call me last minute, and the conversation would usually go something like this…
Her: Frank, this is Mrs. Skelly. I need you to come tune my piano this Friday as I'm having a function on Saturday.
Me: I'm sorry Mrs. Skelly, but I'm booked out.
Her: (a bit more authoritatively this time) Frank, this is MRS. SKELLY and I really need you to tune my piano this Friday.
Me: Yes, Mrs. Skelly. I'll arrange things so I can be there Friday.
Her: Thank you, I knew I could count on you.
I would arrive at Bois Doré (the name of her estate) on Friday, parking my old van as discreetly as possible, trying to keep it from standing out so glaringly next to the Rolls Royce's and Bentley's. I would walk up the front steps to the huge doors and knock (it wasn't necessary to ring the bell, one of the in house staff was always within earshot of the doors). Typically the butler would answer and turn me over to the interior maid who would then walk me down the long corridor past the sitting rooms to the ballroom. You can see some of the ballroom in the picture below, although it was set up for dining in this shot, with seating for over one hundred guests.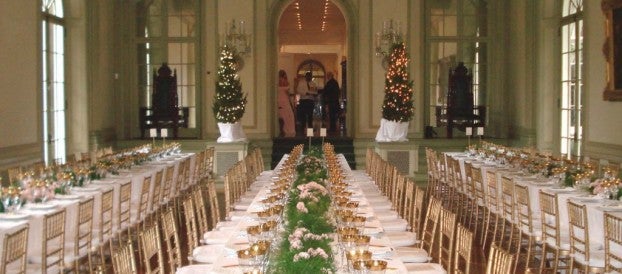 There was a stage at the other end large enough for a small orchestra (one of the teachers who taught at my store often played the harp here for Mrs. Skelly's events. More on those later).
The Steinway grand was set off to one side near the stage. It was a rather tired old piano, I think possibly a B although that was so long ago I'm not entirely sure. It may have even been a D.
The maid would ask if she could get me anything, a beverage, perhaps a snack or some cookies. And then she would leave me to my work.
Mrs. Skelly liked to entertain, and she would often display her extensive jewelry collections at these events. Not surprisingly people of questionable reputation would hear about these parties and she would get robbed. Some times literally she herself, other times via break in or even possibly during her events.
The following was quoted from a newspaper article…
---
"I have everything on that I have left, and what I'm wearing as a necklace happens to be a belt," said Mrs. Skelly, an octogenarian who declined to give her exact age. "I had some fabulous jewelry and it's all gone. He made me lie flat and not move, then he just swooped everything up."
Mrs. Skelly, who was unhurt, said the robber apparently was waiting in the house when she, her daughter and her son-in-law returned from a party late Sunday night.
Calling her by name, he ordered Mrs. Skelly to help him find the jewelry. When he had gathered it in a pillowcase, the robber told her to remove bracelets and other jewelry she had worn to bed.
The man apparently fled on foot, and police said Tuesday they had no definite suspects."
And another…
"AROUND THE NATION; Maid Is Charged in Theft Of Jewels From Heiress UPI Published: August 21, 1984 – The New York Times. NEWPORT, R.I., Aug. 20— A new maid of Carolyn Skelly Burford, the oil heiress, faces charges in the theft of $2.25 million worth of jewels from her employer's estate in this coastal resort, the police said today."
---
Poor Mrs. Skelly. She was a character but a good customer of mine, always paid her invoices immediately, and recommended me to her society friends (referrals were pretty much the only way you got that business).
Yes, those were interesting times. I did find that the people with the older money tended to be nicer to me than the people who were nouveau riche. Like the time I walked away  from a tuning because of how I was treated.
---
Newport R.I. Adventures Continue – The Empress Subaru – Circa 1980

And then there was the time I got a call about a tuning and the caller told me to go to the Old Port Launch service and have them take me to the Empress Subaru. It occurred to me this new client must have a piano on a boat. I expected it to be a little spinet on some average yacht (this was Newport, R.I. mind you, lots of yachts).
When I got to the launch service dock I asked if they new where the Empress Subaru was. The man smiled at me and pointed to a ship docked on the outside of Goat Island, in the deep water. I could see from where we were that she had a car and a helicopter on her decks.
The piano in the salon was a baby grand (can't remember the name, although it may have been a Yamaha).
The ship's captain gave me a brief tour after I finished tuning, and then took me back to the dock himself in one of the sleek motor launches from the ship.
And here she is…
---
Off Road Piano Tuning – When just getting there is half the battle.
A tuning I had that required driving on a class 6 private road (not maintained by the town) in Effingham, NH.
This was at a tuning in Parsonsfield Maine. I had just finished tuning the customer's old upright when she mentioned she also had a player piano in the other room, and that it needed some work. I asked her to show it to me.
---
Moose Over Piano
Most people just hang a lamp or a picture on the wall over their piano, but this is Maine.
---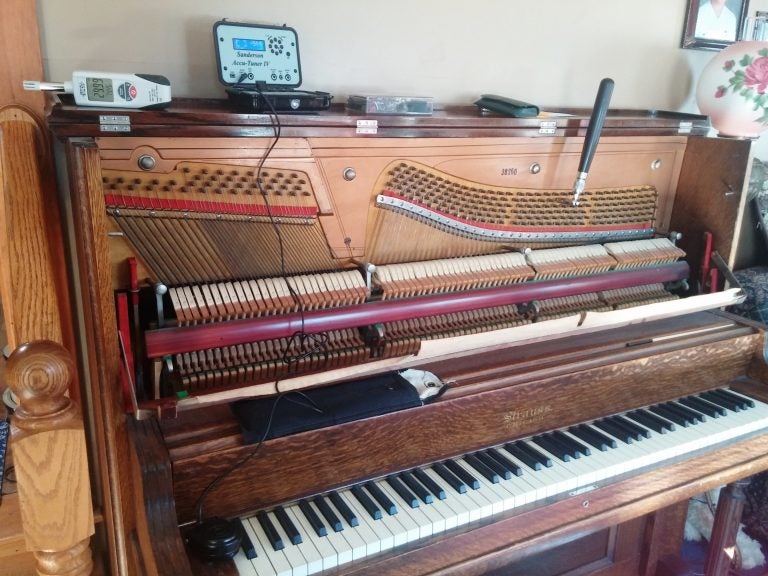 Strauss Upright Piano