I started Piano World in 1997. 2022 marks our 25th year!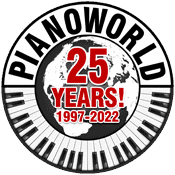 Piano World first started as All About Pianos! (see picture below), hosted on a now defunct service, originally at tiac.net, then at something like http://pages.prodigy.com/pianos/ (don't bother clicking, it stopped working years ago). I used to be able to find some of the old pages in archives.
As the site attracted more visitors I found I needed to add new content and new areas. And so it grew.
I'd like to thank everyone who has been a part of this journey. Some of you have been here since the beginning, others are new arrivals, and still others are yet to discover us (but I hope they do).
And now what started as a hobby is how I make my living.
That's right, I have been relying on Piano World (and occasional tunings and gigs) to support myself, and my two little ones (Kirby & Cara, puppy dogs) . I am however reaching the point where I will be wanting to sell and retire fairly soon.
That's a hint to those of you who might think it's ok to try to get free publicity on our site(s), it's not. Please instead consider paid advertising. And to those who are enjoying the free access to the forums and the main site, please consider that just the hosting alone costs me over $6000.00 a year, so if you'd like to purchase something from our online store 🙂
And now I'd like to share a few memories from my journey to today…
Born November 26, 1951
1950's – realized my Dad could play the piano, really well (even if he was an "iron worker" by trade).
Late 1950's – early 1960's, realized I liked some of the 45's my sister played.
Couldn't get to sleep at night because my parents let a local rock (50's rock) band practice in our living room. (the drummer went on to work on the Johnny Carson show).
1960's – realized girls liked musicians, learned the piano/keyboard, started a local band with my new friend from the city, Joey Doringer (amazing guitarist who attended Berklee School of music, could play anything).
1969 / 1970 – first real band was a clone of The Allman Brothers (two great guitarists, two drummers)
1968/1969 – Started working for Curtis Music Stores (delivering pianos after school, later learned about pianos from Raymond Curtis (son of the original owner who opened the store in 1890) and George Cole (graduate of Bennett Street school).
1970's – played in rock/blues bands and managed music stores
1980's opened my own music store
1990's – continued playing music and tuning pianos, but also worked for McGraw-Hill (publisher) and became a web developer and SEO expert. Started Piano world
2000's to date – continued to develop Piano World, tune pianos, play gigs
Reconnected with Kathy Lyons, hadn't seen her in 40+ years, fell in love, moved in together (in Florida)
2012 – We moved to Maine, bought a house mostly because it has a great music/piano room 🙂
Still tuning pianos and playing gigs whenever I (we) can. Still love the piano, live music, and Kathy.
One of my first piano sites, in 1996 (made the local paper, I was living in Enfield CT at the time)…
My Music Store, circa 1983
Curtis Music Stores – Where I started in the business in 1968 delivering pianos after school
Yes that's me in the shorts pushing the piano up the ramp
Equipment for my first band, circa 1965/1966 Hey at least I had a Hammond, and I still had hair then!
Note the lovely TV (probably B&W) with the control for the rooftop antenna
My Attempt at Becoming a Ragtime Pianist
Various pictures from the piano industry over the years (I have hundreds).
With Joe Lamond – President of NAMM
An interesting participant at one of the NAMM shows (she was actually very pleasant and articulate).
With Kathy and Scott The-Piano-Guy Houston
With the Burgett Brothers of Mason & Hamlin / PianoDisc / WNG
(unfortunately we lost Gary last year, the brother on the left)
Del Fandrich and Yoke Wong
With David Nevue (pianist – Whisperings) when we took him to a restaurant in St. Pete
With Christian Bluthner of Bluthner pianos
Some crazy German from Canada, Me, Kathy, Indrek Laul of Estonia Pianos
Mason & Hamlin Tour
Cape Cod Piano Party
Another Mason & Hamlin Tour
NAMM Show
Larry Fine, Me, Ori Bukai, Rich Galassini, Indrek Laul, Steve Cohen (Estonia booth at NAMM)
I may add some more pictures to this, time permitting. Although I suspect most people could care less it will at least give me a place to find them 🙂
LINKS To some Past Events http://www.pianoworld.com/forum/ubbthreads.php/topics/2327001/LINKS_TO_WONDERFUL_PAST_EVENTS.html
For those who have been around here a long time, some threads from the old forums 1999 / 2000
http://www.pianoworld.com/forum/ubbthreads.php/topics/919373/Forums_Nostalgia?.html
2018
An Interview I did for the NAMM Oral History program https://www.namm.org/library/oral-history/frank-baxter-full-interview